FROM WAR TO FREEDOM by Thong Ba Le

Section VI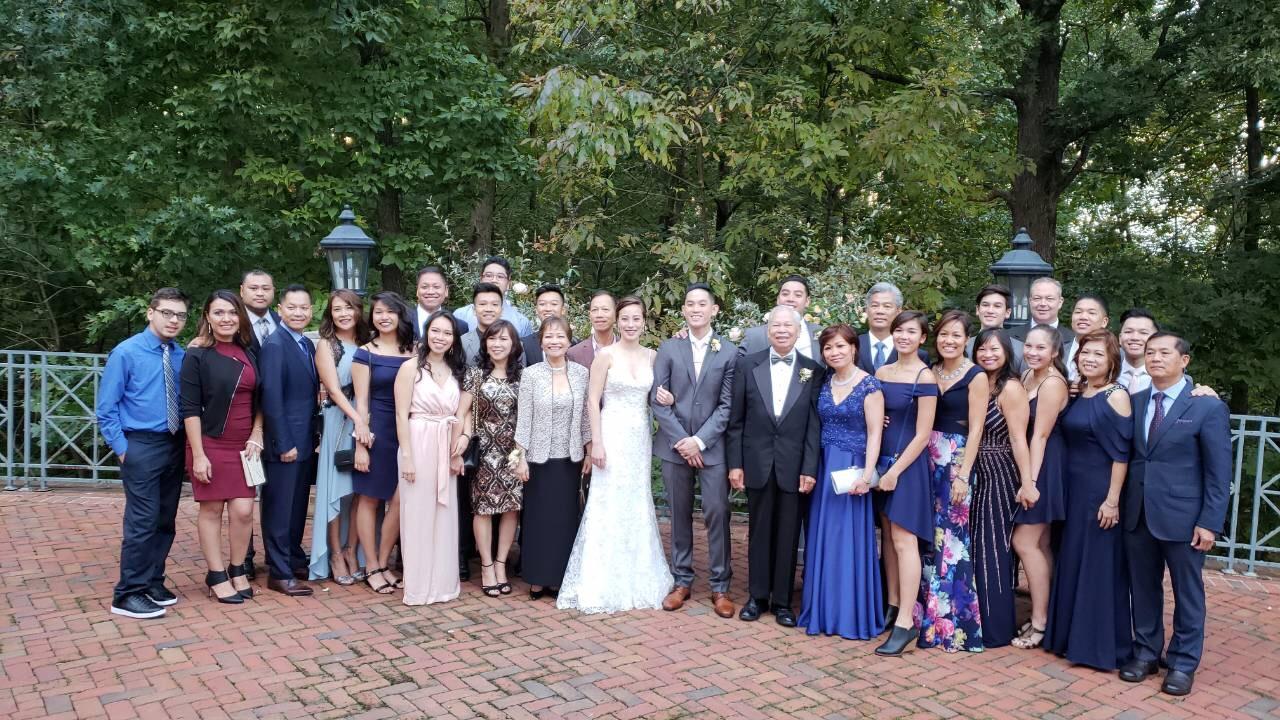 My Family Today

The fall of South Vietnam on the last day of April 1975 caused over a million South Vietnamese to flee their homeland and seek refuge in the free countries around the world, notably in America. My situation was the same. I stayed until the last minute to defend my base, then finally took half of my family with me and boarded the last fishing trawler to sail out to the sea in search for freedom. I had to leave my other four older children behind in Hue with my parents.
We were rescued at the South China sea by the United States Navy ship on the first birthday of my youngest son Le Ba Phuc, then we were transported to Subic bay in Philippines then were flown to refugee camp at Wake Island and Camp Pendleton, Ca on July, 1975

We settled in Arlington, Virginia on August, 1975 with the help of Colonel Ed Rowe, my former United States Advisor at the Vietnamese Military Academy in Dalat and his wife, Virginia Rowe and under the sponsorship of. my former United States Advisor at the Military Academy in Dalat who sponsored my family with his church, The Presbyterian Church in Georgetown, Washington, D.C.

After eight and a half years of separation, my eldest children in Vietnam were about to get authorization papers and with the approval of United States of America, the Vietnam government decided to allow my children, Le Thi Thanh Nhan, Le Thi Thanh Trang, Le Ba Tri and Le Ba Dung, to reunite with their parents and younger siblings, Le Thi Thanh Nha, Le Ba Hung, Le Thi Thanh Tam and Le Ba Phuc in United States of America. Eventually, Minh, the four younger children, and I moved to an old 5-bedroom home in Dale City, Va to prepare for the arrival of our four oldest children from Vietnam.
The big day had come after more than eight and a half years of a split family, we finally celebrated heartily for the family reunion on Summer 1983.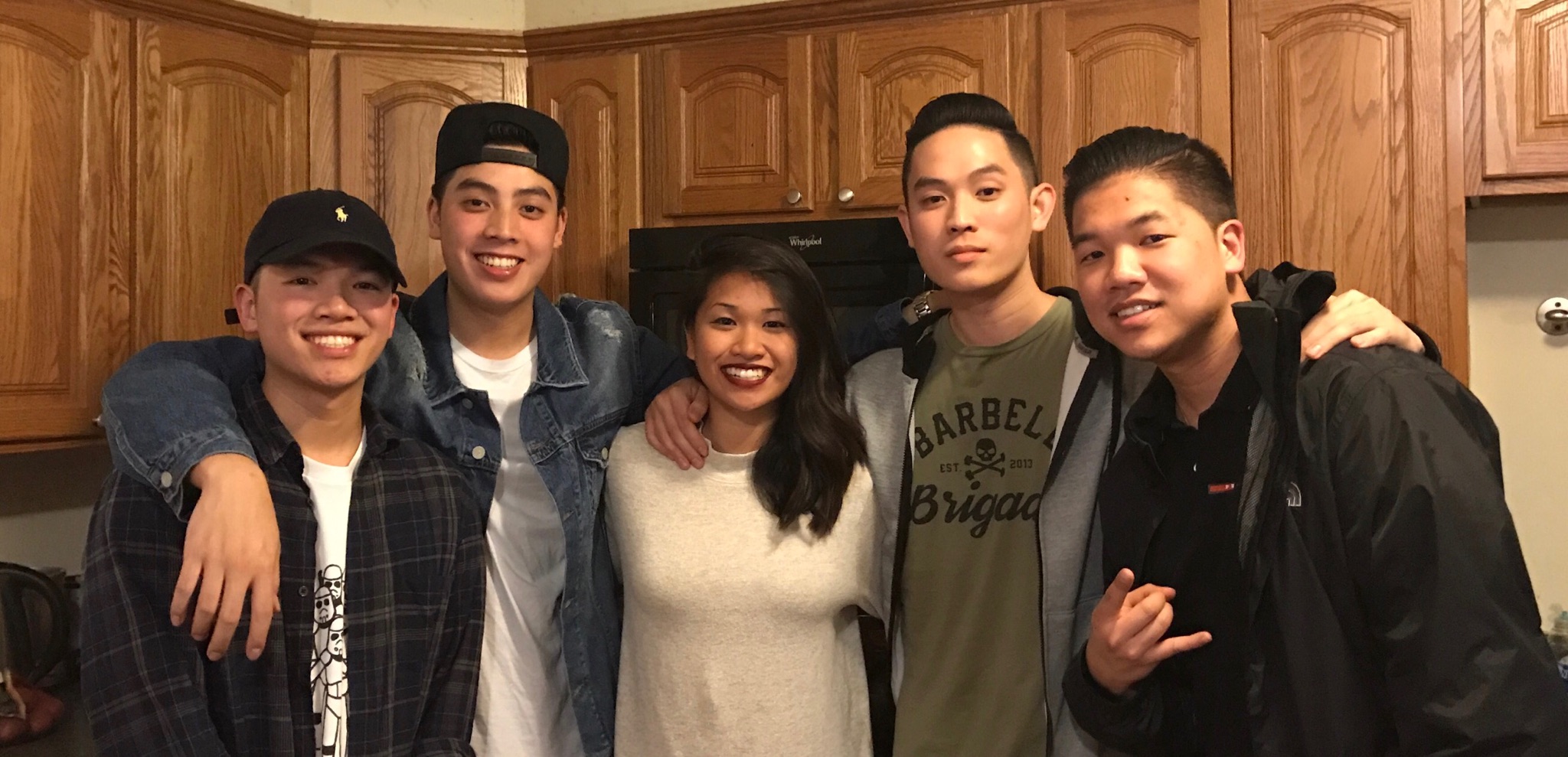 My grandchildren graduated from colleges:
Luu Khi Trung from Virginia Tech University on 2016 - Nguyen Tuan Kiet from Virginia Commonwealth Univesity on 2016 - Allison Le from Virginia Tech University on 2017 - Nguyen Tuan Anh from Virginia Commonwealth University on 2012 - Luu Khi Nam from Old Dominiums University on 2010
Chau Hoang Le from UC San Diego on 2019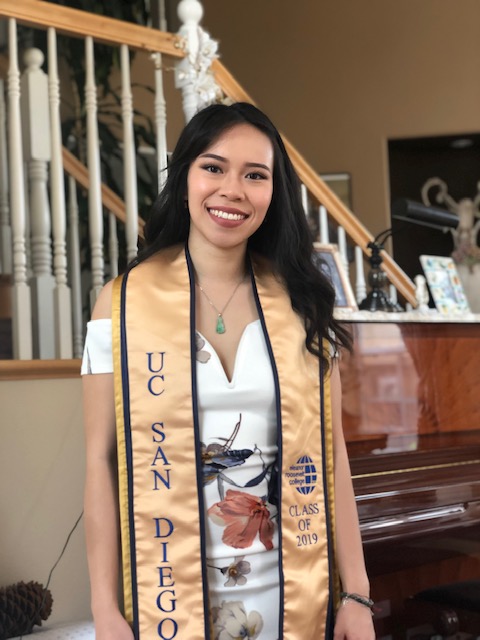 *****

The Vision of a next Vietnamese - American Generation

By BaDung Le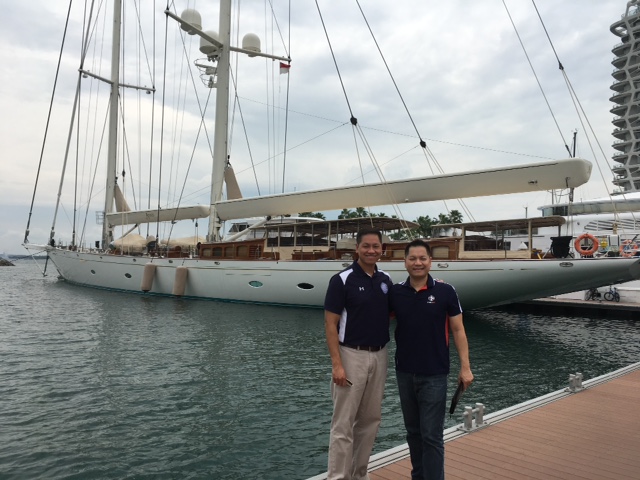 Stories from childhood hold a special place in our hearts. Whether bedtime fairy tales, summer afternoon tall tales or family anecdotes, these memories subtly influence our views of life and of human relationships.

For any culture, the most treasured stories are those of national heritage passed on from generation to generation. I remember how I would stop to listen as the village elders told stories of the birth of Vietnam, of her struggles with neighboring powers and the glories of her leaders and military heroes. These tales evoke sentiments of nationalism and loyalty. However, their underlying message conveys the moral virtues and the need for tolerance and understanding of cultural and societal diversity. The values instilled in my youth are lessons that have guided my life and inspired my love and desire to pursue a career in foreign service.

In the wake of the Vietnam War and the rise of the Communist regime, the life I knew changed forever. My personal and professional aspirations were severely tested and subjected to profound scrutiny. Closed off from the modern world, Vietnam languished under the weights of poverty and government suppression. My parents managed to flee during the 11th hour of the Fall with my siblings. The other older children, including myself, were left behind. The hopes of children are easily forgotten under such conditions, and I questioned whether mine would ever come to fruition. For the next nine years, I lived under Communist rule, witnessing first-hand the various attempts at economic restructuring and the country's desperate need for modernization. When my siblings and I finally left for the U.S.A, it was with a heavy heart.

Life in the United States of America represented a new beginning and an international experience far surpassing a mere visit abroad. Arriving at age 17, I found myself in the awkward position of neither having a child's easy adaptability nor an adult's maturity to overcome culture shock. I faced the triple challenges of adjusting to a new life, completing high school with honors within nine months and resolving the heightened traumas of adolescence. The cultivation of skills such as determination, discipline, flexibility and humor shaped my success then, and in all my endeavors since.

As a result of all these events, my professional goals also changed direction. Having achieved a degree in electrical engineering, I was recruited for GE's Edison Engineering Program, widely known for its developments of future innovators in the field. My subsequent assignments involved GE's Aircraft Control Systems, where I supported the design of some of the latest technology deployed during the Gulf War. I was also the founder of Digital Logic, Incorporated, my engineering experience has broadened to include an entrepreneurial dimension. In addition, I successfully completed my Master degree in Electrical Engineering with thesis while maintaining a rigorous work schedule. My success in engineering is based on my abilities to communicate with clients and peers, to be keenly analytical, to organize and comprehend volumes of detailed information, to research and be innovative when the answer is not clear and to effectively work within a team environment as well as independently.

As I direct my career towards foreign service, I bring the knowledge and qualities of character gleaned from my life experiences, my educational and professional background and most importantly, my genuine love of international affairs. The "world" is no longer confined to a neighborhood, a country's borders or the water's horizon. Through advances in technology, we, as individuals or as groups, are capable of affecting situations far removed from our personal spheres. Thus, an open dialogue and channels for cooperative effort in international relations have never had more significant import as they do now. Studies show that while global trade has increased in the past few years, the most dramatic increase has taken place among countries within the trading blocs of North America, EC and the Pacific Rim. In light of recent US trade talks with Japan, the issue of the Pacific Rim countries deserve further exploration. The dragons and mini-dragons are helping to expand the region by opening facilities and trade in their less developed neighbors, one of which is Vietnam. As the trade bloc becomes more unified in its objectives and regulations, the US government must consider the policy implications in negotiating not only with each individual country but the whole bloc as well.

My background and knowledge for Far East customs and procedures lend themselves to making a contribution in this particular aspect of foreign service. Through the Graduate Foreign Service Program of the Georgetown University, I hope to gain the necessary academic and practice foundation. It is an opportunity to explore international issues with colleagues in an enthusiastic and innovative environment, grounded by the knowledge of the responsibility we hold as the future world leaders. My professional goals include joining the State Department and becoming a vital force in shaping U.S. political and economic policies for the Far East. When I listened to the childhood stories, I had dreamt of finding my place within the Vietnamese government and working to influence its policies towards other countries. Today, I find myself in a unique position to make those kinds of influences as a diplomatic emissary of the U.S. government. The ultimate goal of international relations is providing a means of communications between societies, and in that sense, I will finally be "going home."

At the Graduate School of Foreign Service, Georgetown University 1992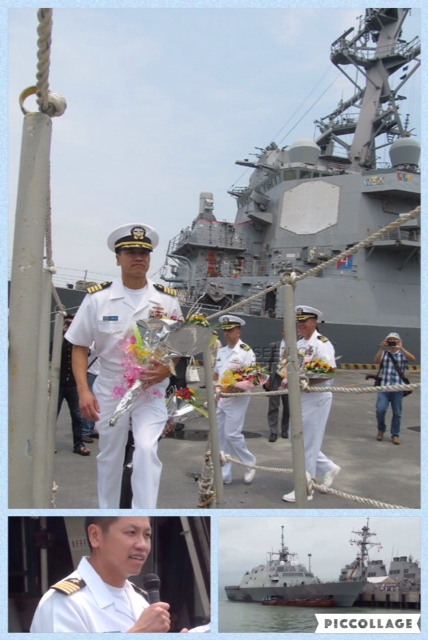 *****

Proud To Be Vietnamese

(My Email sent on Wed, Apr 22, 2009 at 3:44 AM to Commander Hung Ba Le, Commanding Officer USS Lassen, DDG82)

Dear Hung,

This Thursday is the big and historic day for us and the Vietnamese people to remember when you take the Command as the Captain of USS Lassen (DDG 82) because you have represented us, the free Vietnamese around the world to be the first Vietnamese American Commanding Officer of the most modern United States Ship.
You also continue my dream and my in-completed career in the South Vietnamese Navy. "My heart's always at sea" and I always follow each and every journey that you had taken, have been and will be sailing in the future. I thank you very much and please remember that we are very proud of you and we are also proud to be Vietnamese, to be free since April 30th 1975 when we had to say farewell to our Motherland and escaped for freedom in the fall of South Vietnam into Communist from the North. I have opportunity to read your writing as I told you and I admire you so much and very proud of the wisdom, the vision and the leadership ... that you possess in yourself.
I am sure that from now on, you have to focus on your great responsibility but I am also very confident that with your good character, your great personality, your super seamanship, your excellent skills and acknowledges, your compassion and your outstanding leadership as well as the will to work hard and to take care of the welfare of your sailors, you will overcome any challenges that you may have in your way and will succeed victoriously your missions.
I believe without a doubt that "From Courage Life" will guide you with love, passion and a lot of luck to complete successfully you task as her Commanding Officer.

All member of the Le Ba family are with you on this very special historic moment of our life.
We love you and we are praying to our ancestors to give blessing to all of us.

Good luck and have a smooth sailing, our son.
Go Navy!!!

Mom and Dad



*****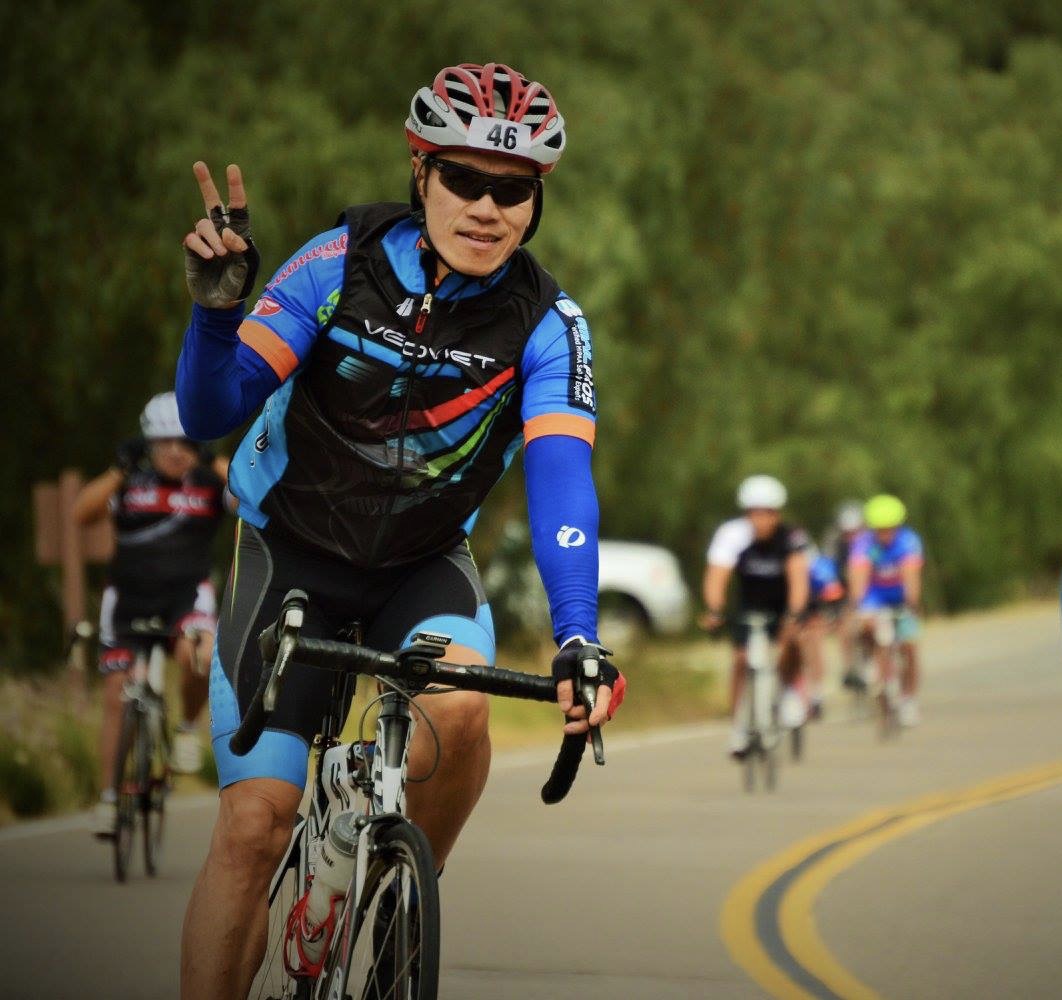 The Value of Freedom

By Commander Thong Ba Le, SVN Navy





Last year, summer had just begun to bring warm weather from the south to the Washington metropolitan area, along with humidity and hazy sunshine. One early morning, the sun rose above the pine trees in front of my house as I was writing a short story about my years in the Navy. I could faintly hear the sound of water pumping in the fish tank in the living room. My thoughts were drifting along with the words that steadily appeared on the monitor of my PC. And suddenly, a strange feeling coursed through me when I typed the words "fleeing for freedom." I stopped and turned around and looked at the Statue of Liberty that lay on the shelf under the map of Vietnam. I had prayed for my country and meditated in front of that shelf in hopes of finding peace of mind after days and days of hard work and tirelessly laboring since I moved in this house 17 years ago. I had prayed that freedom and happiness would soon come to my country and my poor people who had lived under the dictatorship of the Communists since April, 1975.

The Statue of Liberty, the symbol for democracy, justice and equality had guided the spirit of freedom for the world. With that thought and subsequent inspiration, I saved my story and started a new file to write a poem in celebration of the Fourth of July, the Independence Day of the United States of America, which would come in two weeks. After two hours of thinking and searching for the best words that would transform the song in my soul into poetry, I completed a sonnet about the Liberty Bell, and all it symbolizes, in Philadelphia, Pennsylvania: Liberty Bell

Liberty Bell, you're standing alone.
Your many cracks, the history of which
are seen from across the Convention Hall.
In the Declaration's birthplace of this
country of freedom and opportunities,
life, love and happiness are preserved
as well as the pursuit of liberty,
so justice, the human rights can be served.
O Liberty Bell, spirit of the Land,
keep healing the world with freedom sounds,
the right to live is placed in people hands
'til people discover dreams can be found.
O Liberty Bell, you have not been standing alone,
without your sounds, human rights would be gone



One week before July 4th, I sent emails to my American friends whom I knew before in Vietnam and to some colleagues from my company where I had worked for the past 22 years and attached the poem. I enjoyed receiving responses from them--some called me on the phone and some replied by email to either compliment me or to encourage me. But the one thing that so surprised me was that each and every friend of mine thanked me for reminding him of his blessed fortune, of living in freedom for the past two hundred years since the Declaration of Independence in 1776. My American friends had written: "Sometimes, due to daily life under pressure, and to dealing continuously with challenges that we have to face everyday, we truly forget that we have been so fortunate and blessed to be free, and we thought this freedom had just come to us."
Then they concluded: "We have taken it for granted and forget that we had to earn it."
My friends' observation and acknowledgement stayed in my mind for many sleepless nights in the following months. I was sad to think that people did not realize how important it was to be free. I felt sorrow that they did not recognize that freedom was as vital as the air they breathed, not until freedom was about to be lost or until there was not enough air to breathe. To live in freedom was a right that was given by the Creator to mankind. One only recognized it when freedom was taken away by force, by dictatorship or by slavery.

It was early morning and the dew had drenched the leaves in my backyard like tears from heaven. My thoughts were flowing along with my sadness as I recalled a videotape that I viewed a while ago about the unfortunate Vietnamese boatpeople who died at sea on their way to seek a free world:

He was about to die in the stormy "East sea"
on that journey crossing the ocean to be free,
he heard in the wind the roar of the pirates
who molested and destroyed chaste life of his lady...

The above stanza of my poem only partially describes the heartbreaking stories of the Vietnamese boat people and the expensive price that they had to pay when they dared to cross the Pacific Ocean flee from the Communist regime, in search of freedom. Thousands of innocent Vietnamese left their birthplace, left behind their ancestors' tombs and their most precious valuables. They shared cramped spaces aboard narrow boats that rocked and rolled with the white-capped waves and windy rough seas for only one reason: "To seek the freedom that was taken away by force when the Communist dictators took over South Vietnam."

The eastern sea had become a mass grave of free Vietnamese, their corpses feed for the hungry sharks. Girls and women were brutally raped by barbaric pirates on their trip to find the wonderland where the Statue of Liberty and her bright torch was waiting to guide the miserable refugees to her love, to opportunity and a free country. The value of freedom was so high that the freedom-seekers had to pay, but there are not many refugees who still remember the only reason that we decided to flee our homeland. At the time, if we were asked why we left Vietnam, then each and every one of us did not hesitate to respond: "For our freedom." Today, perhaps because we are satisfied with our material, comfortable and luxurious lives in this country that has become our sanctuary, we have forgotten the reason why, on that April, 30 1975, the last day of a war of idealism between the Vietnam patriots and communists, the day from which a black history of the broken-hearted Vietnamese was written, we fled our beloved Vietnam. For Freedom. From then on, however, people started changing their beliefs.
Freedom can not be purchased with material goods, with money nor with force menace, or violence because it was a priceless gift from our creator. The spirit was present in the souls, the minds and the hearts of living creatures since their first day on this earth and no one could take it away. With that perspective in our beliefs, we should keep reminding ourselves of the real reason why we left our motherland on that heartbreaking day, so we may understand and support people who have been fighting for their rights and for freedom on this planet. A high price has been paid for freedom, indicated by thousands of crosses in front of the tombs in the lonely and vast cemetery in Normandy, France. These are the resting-places of thousands of Allied soldiers who landed and were killed on D-Day, June 6th 1944. This is an example which recites the history of mankind, of a day when Allied Forces landed onto the beaches of France to liberate people in Europe who were living hopelessly under the control of Hitler and his Nazi regime. D-Day also marked the end of the Triple Axis' (Germany, Italy and Japan) dream to conquer the world and lead to their surrender to the Allied Forces in World War II.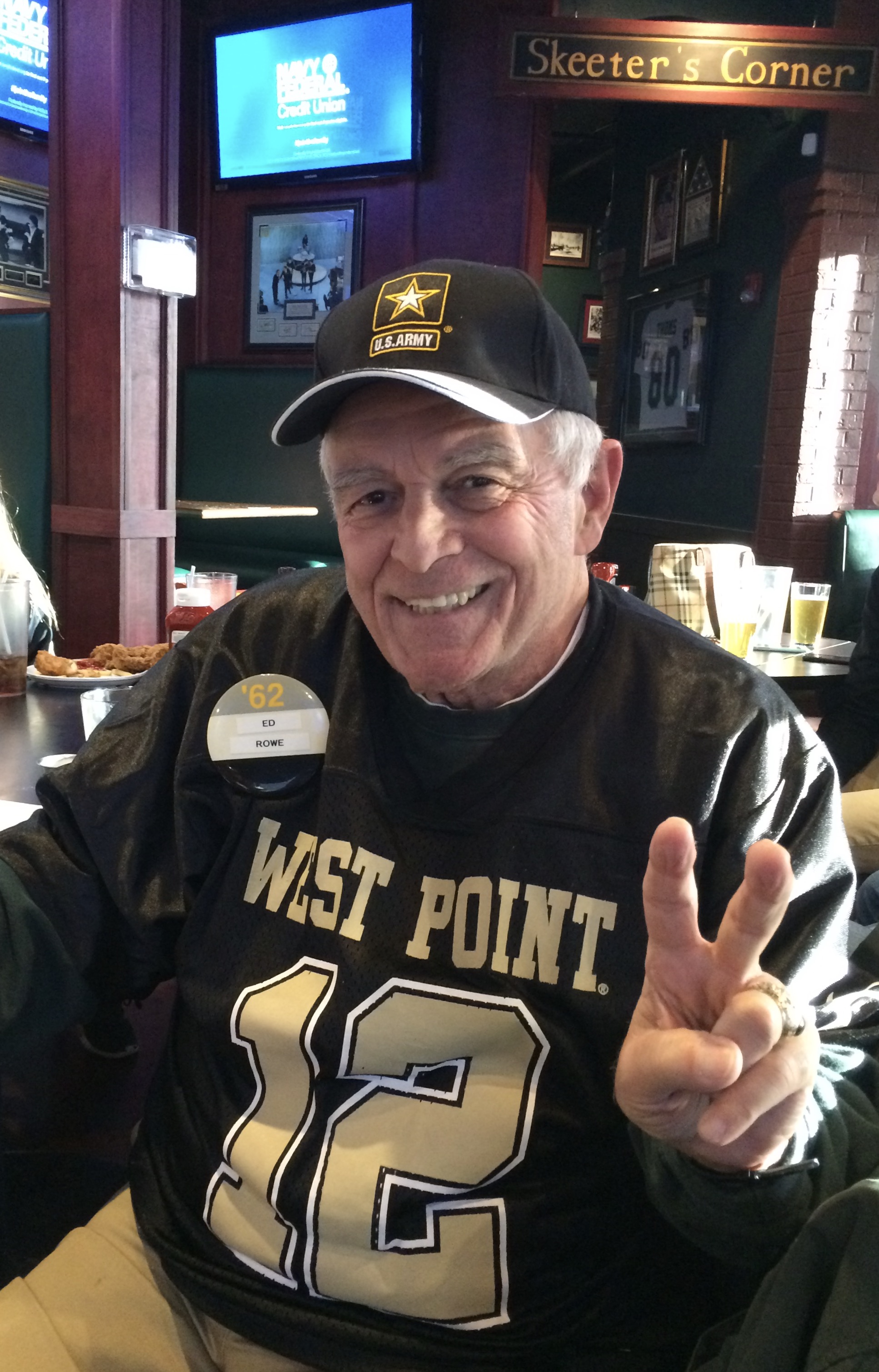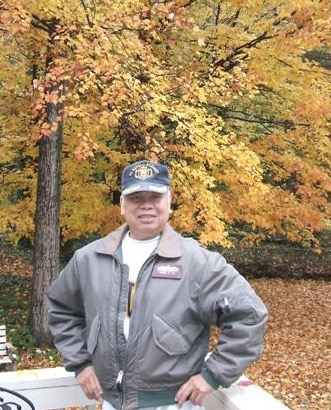 FOLLOWING WAS THE LETTER THAT I WROTE AND SENT TO ED ROWE with the help of the Executive Officer of USS Barbour County who gave me the envelop and sent my letter to Kansas City, MO, U.S.A.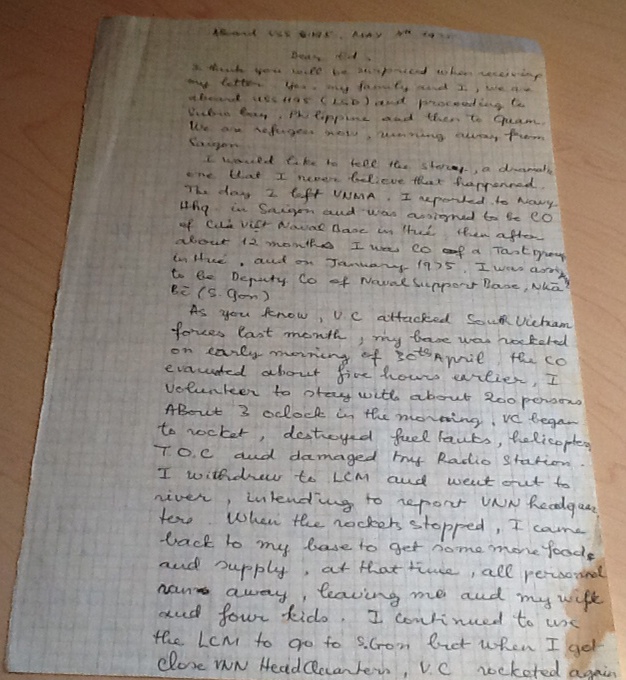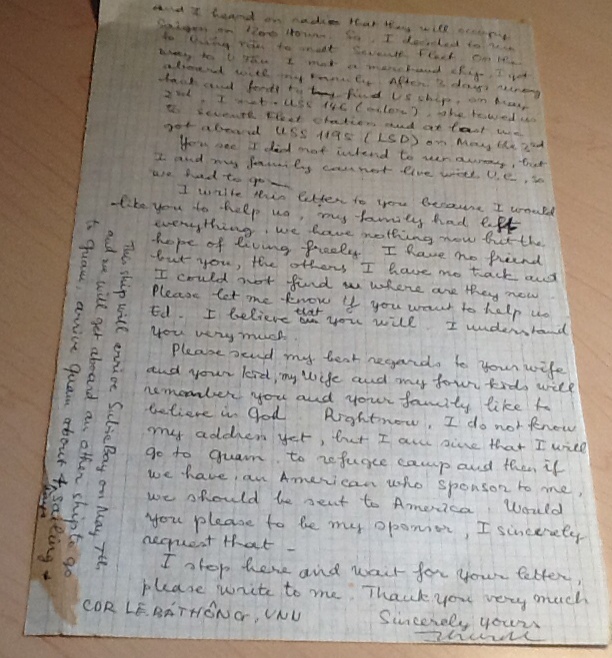 This was the replied letter from Major Ed Rowe to Commander Thong Ba Le: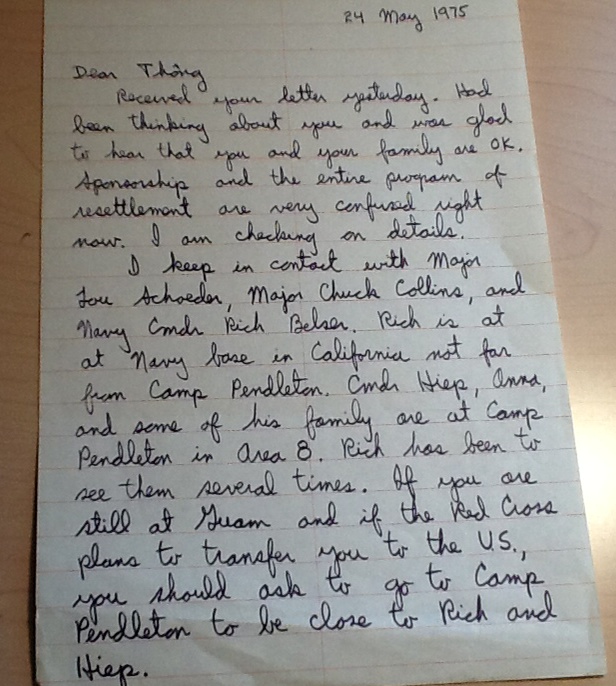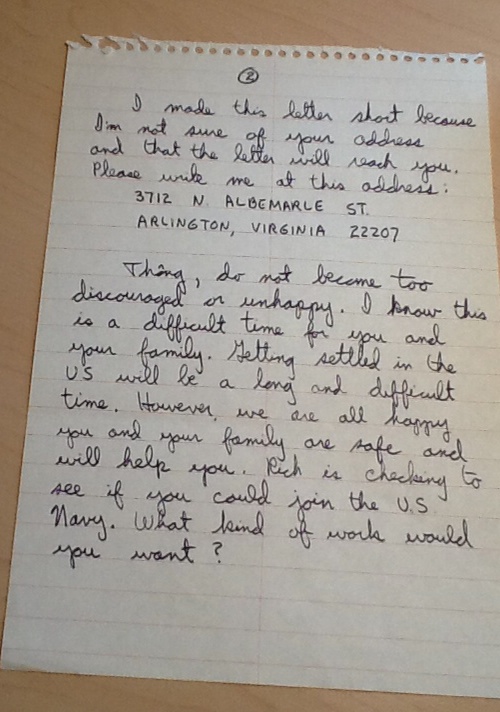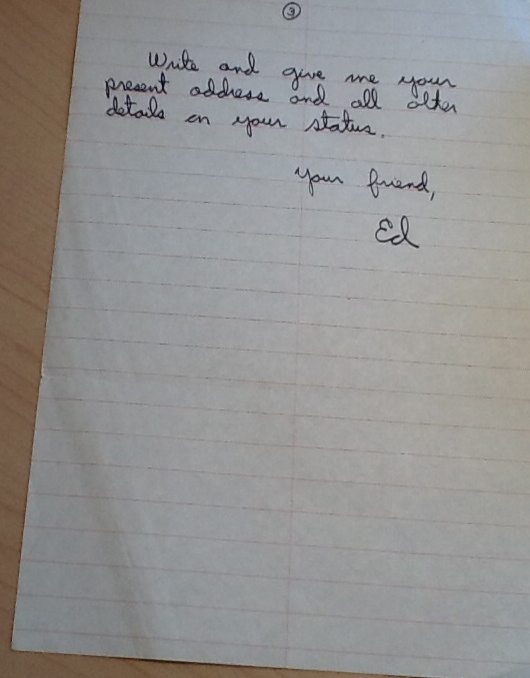 Friendship reunion on September 24, 2017 at the Army Navy Country Club in Arlington, Virginia: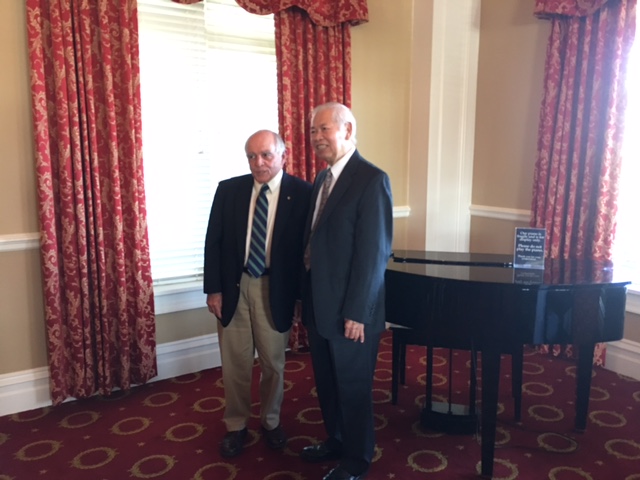 <==Previous----Next===>