PROLOGUE
The Vietnamese people fought the war against the French Colonists for over a century, during which hundreds of thousands of young nationalists sacrificed their lives to liberate our homeland. We have all spent time mourning our beloved friends or relatives who died in the cruel war that all but destroyed our underdeveloped country. Vietnam survived only because of her proud and patriotic people.
Every time I sit down to write my bittersweet memoirs or a line of a heartfelt poetry or research the establishment and the passage of my dear Navy, I feel waves of sorrow undulating inside me; I sit and think that I want to escape from this life to the life that I knew before—of a solitary seascape oscillating in the swing of ebb tides, a life of a warrior that was cut short by unwanted war and by destiny. But then, after that momentary wish, I think about the young Vietnamese generations that include my children and my grandchildren. They are our national treasures, the future of our country and they need guidance in returning to their roots and maintaining their patriotic consciences. Each time, this convinces me to renew my pledge to write about our heritage and my advantageous experiences.
Effective communication of the valiant history of the Vietnamese people is crucial. Naval history plays a great part in the retelling of the war in Vietnam, due to our strategic position and special location in South East Asia. History, in to my opinion, is the events that shape the life of a nation. Future generations will read about our history and will retrieve the truth from it and apply that truth to their own lives...



Lời mở đầu
Kể từ ngày toàn dân Việt Nam chung sức vào cuộc kháng chiến chống thực dân Pháp để giành lại độc lập chủ quyền và tự do cho quê hương dân tộc, hàng vạn người dân Việt hy sinh cho chính nghĩa Quốc gia. Mỗi người trong chúng ta, đă nhiều lần khoát lên đầu vành khăn tang chế, khóc cho những người thân yêu đă nằm xuống vào ḷng đất Mẹ, trong cuộc chiến kéo dài cả một thế kỷ, tiêu diệt tiềm năng sản xuất của một quốc gia chậm tiến nhưng nhiều ḷng ái quốc.
Mỗi lần ngồi viết lại những tâm t́nh dĩ văng hay ghi vào trang giấy những vần thơ nhiều tâm hồn dân tộc hoặc đánh máy một bài biên khảo về lịch sử thành h́nh của một quân chủng thương mến như hôm nay, là một lần kỷ niệm buồn nhiều hơn vui trở lại trong tâm tư, để rồi tác giả cảm thấy ḷng ḿnh khắc khoải; muốn chạy trốn và bỏ hết tất cả những ǵ c̣n lại trong cuộc đời trên quê hương tỵ nạn thứ hai này, t́m về một vùng biển xa xôi nào đó, xa lánh cơi trần tục, gửi tấm thân tàn của người lính biển bị thời thế và định mệnh chia cắt mộng đời.
Nhưng rồi nghĩ đến hậu bối của chúng ta, những thế hệ trẻ tương lai, những tài năng và nhân lực của dân tộc cần được hướng dẫn để quay trở về nguồn; và duy tŕ tinh thần ái quốc của mầm non Việt Nam này; tác giả lại tiếp tục nhiệm vụ của một người viết lại những kinh nghiệm và kỷ niệm đời. Sự quan trọng truyền thông về lịch sử anh hùng của dân tộc Việt Nam mà hải sử đă giữ một vai tṛ lớn lao v́ địa thế và tính cách chiến lược đặc biệt của quốc gia trên thềm lục địa Đông Nam Á, đ̣i hỏi chúng ta ghi chép những ǵ có liên quan đến cuộc chiến tranh Việt Nam một cách chính xác, v́ lịch sử là những biến cố thật sự xăy ra của "cuộc đời một Quốc gia" và con cháu sẽ đọc và rút tỉa kinh nghiệm để rồi áp dụng trong môi trường sống và cho ngay cả chính bản thân của các thế hệ tương lai này...






Power Point Presentation "THE VIETNAM WAR IN MY POETRY"





... La Chữ village was located about 11 kilometers northwest of Huế City, on the edge of Trường Sơn Mountain, west of Highway 1 to Quảng Trị Province. His father had heard rumors about French soldiers killing young men and raping women when they were captured. He was understandably frightened for his family and decided to take them to the countryside, away from Huế City until the situation become safer. His father's old friend had moved to La Chữ and lived there for years. His father had asked his permission to stay at his house during the attack of French troops in Huế City...

Please click (here) to read more








Organizations and Progressive Activities of the Republic of Vietnam Navy

by Commander Thong Ba Le, RVN Navy
Background history
The Vietnamese Navy was founded in 1952 with the assistance of the French Navy. In the beginning there were no Vietnamese Naval Officers who had the experience to command. By the request of the Vietnamese Government, the French temporarily continued to be in charge until August 20, 1955, the date that Vietnamese Naval Officers completely commanded the Navy Forces. There were about 2000 personnel from the beginning, with 22 vessels consisting of: Patrol Coastal Escort (PCE), Landing Ship, Mechanized (LSM), Landing Ship Infantry, Large (LSIL), Landing Ship Support, Large (LSSL), Mine Sweeper (YMS) and six River Assault Groups...
Please click (here) to read more



PATROL TORPEDO BOAT FAST - 06 (PTF Zero Six)
(Courtesy of ptfnasty.com)

Commander Thong Ba Le, formerly of the RVN Navy is a regular visitor to this site. His early emails were an inspiration to get ptfnasty.com to where it is today. His words of appreciation would be the first Thank You that I have ever received for my time in Viet Nam.
"It is my pleasure and honor to have you posted my PTF stories on your website. Thank you very much for coming to Vietnam to help us and being part of our pride to fight against the Vietnamese Communist. Your contribution had helped us to prove to the whole world of our ideal for freedom that we have been fighting for."

Dan Withers



Please click (here) to read more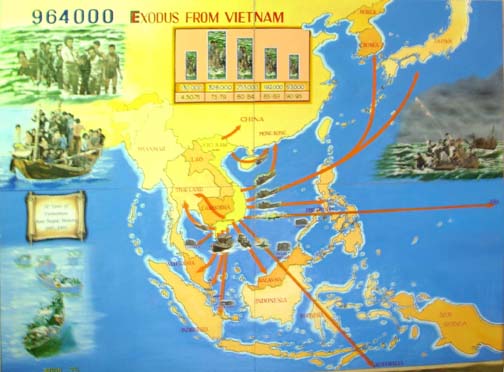 THE JOURNEY OF DESTINY
The following true account of a courageous Vietnamese River Boat officer will help you understand the meaning behind the words on the Statue of Liberty: "Give me your tired, your poor, Your huddled masses yearning to breathe free, The wretched refuse of your teeming shore. Send these, the homeless, tempest-tost to me, I lift my lamp beside the golden door!"

(Courtesy of RiverVet.com)

...Perhaps the Journey of Destiny was the destiny for not only the 400 evacuees onboard the fishing trawler, but it would be one of the Journeys of Destiny of my poor Mother land. Millions of young innocent, patriotic nationalists and courageous soldiers died to protect those flags and sacrificed their lives for the cause of Freedom and Democracy for their homeland. Were those sacrifices in vain? ...

Please click (here) to read more